What Are The Differences Between Different Non-woven For Medical Supplies?
When you are purchasing non-woven medical consumables, will you not know how to choose in the face of a wide variety of products? Faced with different non-woven raw materials, you don't know how to start? What is SMS, what is PP, Viscose, PLA, and woodpulp, etc, it is a headache.
Here I will give a detailed introduction to different medical nonwovens and uses, I hope to help you.
First of all, let us introduce what is medical SMS Non-woven and use?
SMS(SMS Non woven) is the non woven with the Production Process of (S)Spunbond+(M)Meltblown+(S)Spunbond and SMMS is (S)Spunbond+(M)Meltblown+(M)Meltblown+(S)Spunbond. SMS is widely used in hospital disposable gown, hospital bed cover, hospital patient gowns, surgical packs, and surgical drape, etc with the symmetrical, water resistance, antibacterial and durability features. SMMS has the same features but better than SMS. If these SMS non-woven with PE coated, it will has the feature of waterproof, it will protect the hospital mattress. So, SMS+ PE Waterproof Medical Bed Sheet is welcomed by hospital and clinic and home health care.


Second, What is Viscose, PP and PE Non-woven Fabric?
For Hydrophilic Non woven, we have Viscose and Hydrophilic PP which are usually used with PE for making Surgical Drape and Hospital bed cover. They are usually used with PE coated. Viscose/Hydrophilic PP with PE coated has one side film absorbent and another film waterproof. For absorbent side, it will absorb the liquid like sweat of patient to make the patient feel dry and for waterproof side, it can protect the hospital mattress or durable bed sheet. The most prominent advantages of Viscose are absorbent, feels soft, smooth and breathable. So, PE+Viscose Waterproof Medical Bed Sheet, and Hydrophilic PP+PE Waterproof Medical Bed Sheet, hospital bed cover are widely applied and promoted in hospitals, clinics and home care.

Third, What is Biodegradable PLA Non-wovne?
PLA is a new kind of macromolecular environmental protection material. Its raw materials are mainly corn fiber, which has a wide range of sources and is environmentally friendly. It has good biocompatibility and biodegradability. So, it can be 100% degradation to carbon dioxide and water under landfill composting. Currently, this kind of non-woven fabric is mainly used to prepare disposable hospital linens.
This biodegradable hospital linens has the features of excellent skin contact without allergy, excellent air breathable. So, it has a range of uses in hospital patient rooms, clinical settings for long term patient care. With this kind of biodegradable sheet, you no longer have to worry about the treatment of medical supplies.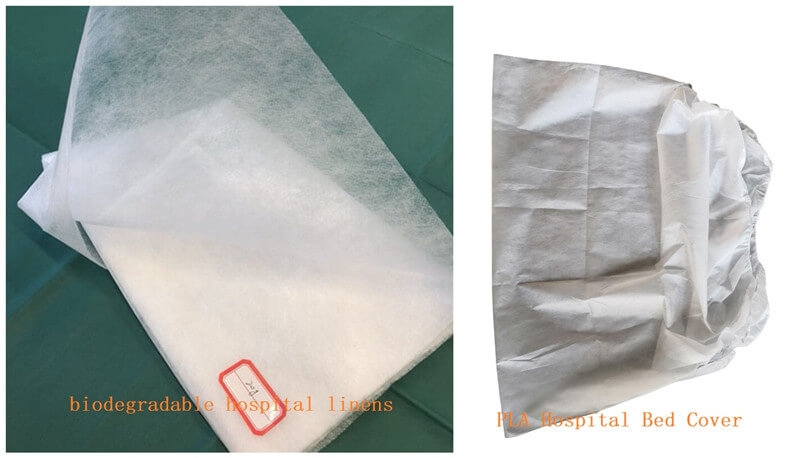 Forth, What is wood-pulp nonwoven?
Biodegradable wood-pulp nonwoven, it is developed by Lantian Medical Supplies Co., Ltd cooperated with non-woven fabric. In the development process, we also work closely with healthcare professionals like you to meet your needs and expectations.
Wood-pulp non-woven fabric is made of 55% high-quality wood pulp fiber and 45% high-grade polyester fiber with advanced wood pulp spunlace complex technology. After functional finishing, it has varies functions of water repellent, anti blood, anti oil, anti alcohol, permeability, and antibacterial property as well.
The two most important advantages:
Biodegradability: 70% degradation rate-solve the problem of medical waste pollution
Cloth-like texture: breathable and softness-reduce sweating and infection

So, it can effectively protect the health, very comfortable, and eco-friendly as medical disposable textile product. The main purpose is to make biodegradable surgical drapes, biodegradable disposable gowns, biodegradable disposable patient gowns, medical bed sheet, and hospital bed cover, etc.
If you have any other questions, please contact me for free, thank you!
Welcome Contact Lantian Medical Supplies Co., LTD
Business Phone:0086-371-89915256
Phone/Whatsapp:0086-13253556537
Email: [email protected]
Contact Us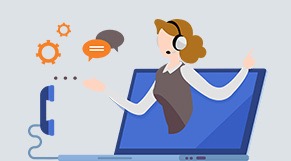 Henan Lantian Medical Supplies Co., Ltd.

TEL:

+86 371-89915256

Email:

[email protected]

PHONE:

+86 18037878230

WHATSAPP:

+86 15617721076

FAX:

+86-371-89915262