What Bed Covers Fit Hospital Beds?
Why use Hospital Bed Sheets or Bed Cover?
The medical staff or the patients in the hospital are aware that the bed sheets or the bed cover are used in the hospital bed. Because in the hospital, where people come and go, there will be all kinds of patients, and the mattresses will always face the possibility of various liquid pollution. A bed sheet or bed cover is a piece of fabric that is outlined and used to cover a mattress. To effectively keeps protect the mattress from being contaminated and to extend the service life, and gives the sleeper a more comfortable feel that if he or she merely lay on the mattress without sheets. So, it is necessary to use a bed sheet or a bed cover.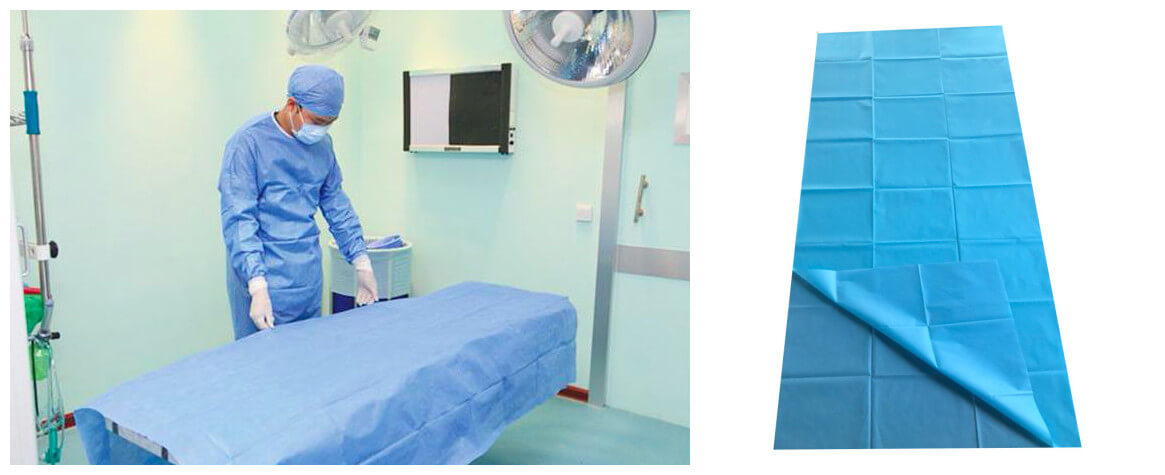 What Kind of Bed Sheets or Bedspreads Are Suitable for Hospital Beds?
How to choose Hospital Bed Sheets?
There are several factors go into making the best choice of medical bed sheets or medical bed covers for your patient or loved one.
When choosing bed sheets and other items for hospitals, the first thing to consider is how to avoid cross-infection. Cross-contamination of patients during hospitalization is increasingly receiving attention from medical institutions. Disposable bed lines or bed covers are often the most convenient way to prevent cross-contamination, as many are antimicrobial and block the growth of bacteria on their surface.
However, it should be noted that some experts feel that disposable bed sheets or bed covers may be more hazardous in terms of spreading germs because they are not always disposed of carefully or with attention to containment. This is more of a procedural than a product issue, and with proper disposal, these bed sheets are still the best solution for contamination control.
Waterproof bed sheets and bedspreads will extend the life of a hospital bed mattress by protecting it from urine, bloods and other bodily fluids. Waterproof bed linens and mattress covers can also help to prevent the growth of mold and mildew which may thrive in moist environments. Soft and comfortable non-woven fabric coated with a breathable waterproof membrane will give you a good waterproof and comfortable experience. The waterproof layer not only has high moisture permeability, but also has good moisture permeability (human sweat can penetrate freely between the films), and its moisture permeability can also be the normal respiration of human skin.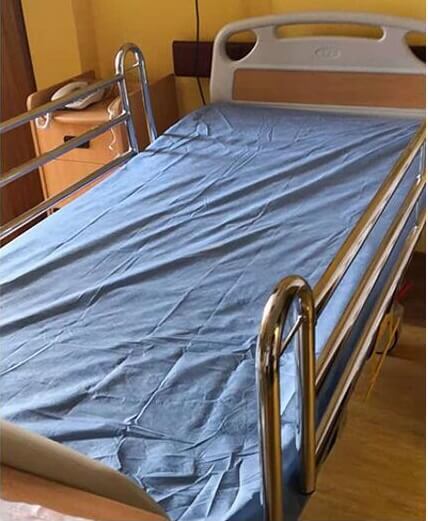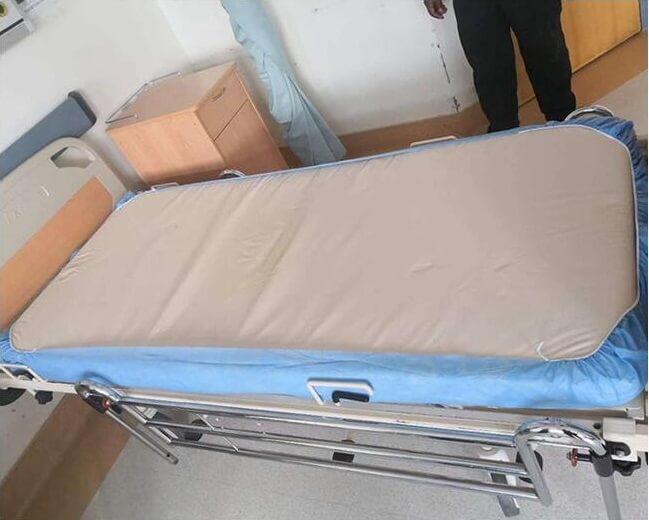 Factors to consider:
The First is Material
Viscose Non-woven Fabric has cloth-like texture and softness, excellent breathable, antistatic, and absorbent, give your patients a more comfortable and dry experience.
Hydrophilic PP Fabric, The hydrophilic non-woven fabric has strong liquid adsorption and is harmless to the human body, convenient and practical! The hydrophilic nonwoven fabric is obtained by adding a hydrophilic agent to the production process of the nonwoven fabric, or adding a hydrophilic agent to the fiber during the production of the fiber, and then the nonwoven fabric produced is a hydrophilic nonwoven fabric.
Biodegradable PLA Fabric, it is a new type of biological-based material, which has soft feel, strong adsorption, moisturizing and breathable, bacteriostatic, is a pure, safe, healthy, close to the skin of the high quality material, known as the second layer of skin. At the same time, it is also a natural degradable material, which can be completely degraded into carbon dioxide and water one year after being buried in the soil, and does not cause any harm to the environment. Therefore, it is more and more popular with people.
The Second is Size Fit
The right size of hospital bed sheets or bed covers will fit well on a hospital-size mattress, without creases or pulling. Folds and creases in sheets and pillowcases can cause bed sores or skin shearing (pulling and tearing of fragile skin). For the bed covers, you also should also consider the length and elasticity of the rubber band.
The Third is Skin Protection
The more breathable the sheets you select, the less chance there is of skin breakdown for the patient. Often, disposable bed sheets or medical bed covers are the most breathable, and many standard hospital bed sheets feature skin protective options and materials, free from chemical agents and latex, soft on sensitive skin.
The Fourth Patient Size
Bariatric patients will require larger hospital beds, and therefore larger-size sheets will need to be used. Be sure you are ordering bed sheets or bed covers with the dimensions that will fit the bed you are using. Additionally, bariatric patients bring unique concerns to purchasing sheets that aid in repositioning. Make sure you choose a linen set with an appropriate weight capacity before trying to use sheets to help move a patient in bed.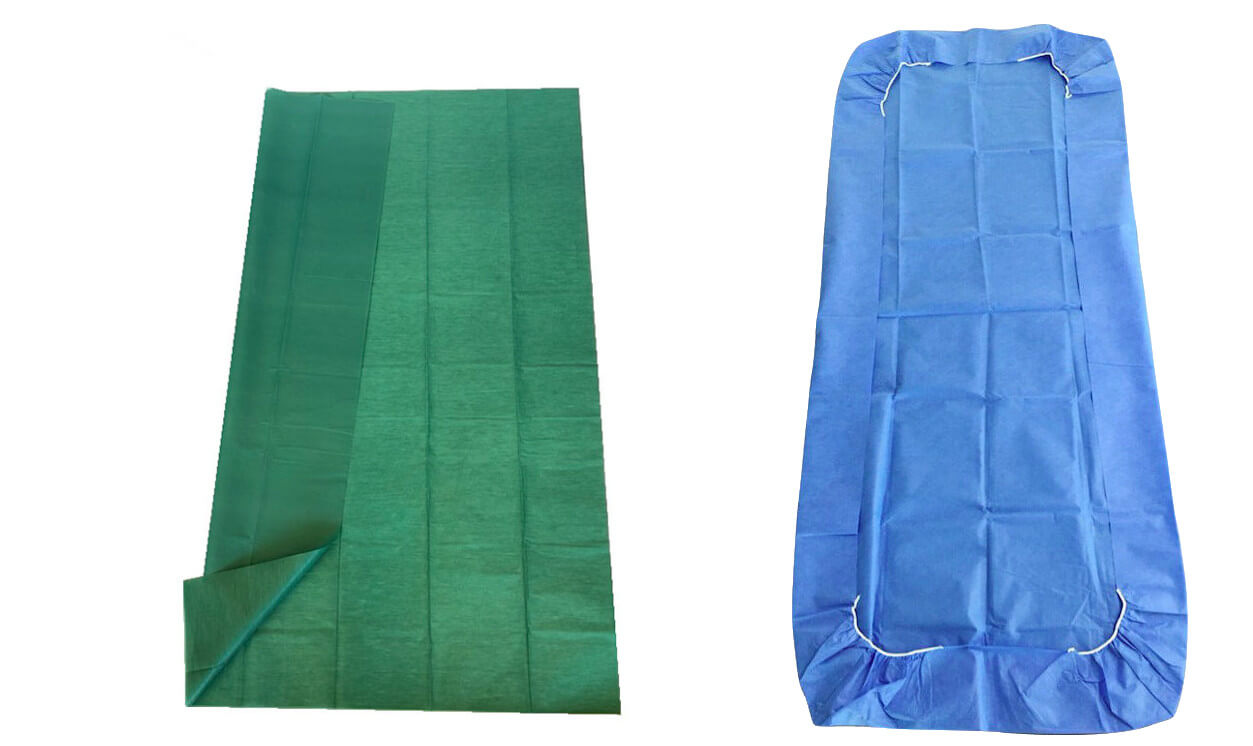 Hospital bed sheets or medical bed covers are often made for patient care, made of disposable non-woven fabric that can help prevent the development of the bedsores and cross-infection. The medical mattress protectors are typically made waterproof by vinyl material and with excellent breathable.
Lantian medical is a mainly disposable bed sheets and medical bed covers suppliers, our factory offers various disposable medical bed sheets and medical bed covers, All about our products are made by various non-woven fabrics, you can also choose from disposable, waterproof, water absorbent, and breathable There are more than 15,000 disposable medical bed sheets and medical bed covers for hospital supplies, mainly located in Asia, the top supplying countries are China, India, and Pakistan, which supply 98%, 1%, and 1% of disposable bed sheets and medical bed covers for hospital respectively Disposable hospital bed sheets and medical bed covers for hospital products are most popular in North America, Western Europe, and South America.
Click Here: To See Our Hospital Bed Covers
Welcome Contact Lantian Medical Supplies Co., LTD
Business Phone:0086-371-89915256
Phone/Whatsapp:0086-13253556537
Email: [email protected]
Contact Us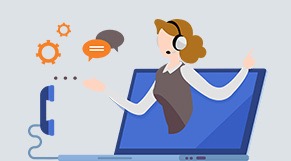 Henan Lantian Medical Supplies Co., Ltd.

TEL:

+86 371-89915256

Email:

[email protected]

PHONE:

+86 18037878230

WHATSAPP:

+86 15617721076

FAX:

+86-371-89915262